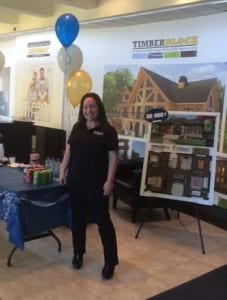 Mascouche, March 2016 – Thank you to everyone who came to visit our model homes in one of the Mascouche, Mirabel and Granby branches, open the weekend of April 2 and 3. More than 125 people came to discover the production of a factory-built house, ask questions and even buy a home! Indeed, several homes were sold over the weekend.
Popular models
Despite the obstacles in finding municipalities that accept micro-homes, one of the models sold was a micro-home16×37 K . This will be built in Sainte-Marguerite-du-Lac-Masson in the Laurentians, in our new Lac Marier resort, a place that accepts micro-homes. This 13 million sq. ft. project with a view of the lake and access to a private beach has charmed buyers. The Lac Marier project offers very affordable lots ranging from 25 000 $ to 35 000 $, including the well and the septic tank. To find out more about this superb project, CLICK HERE .
Another model sold was the 16 x 36 B micro-housing and if there was one word to explain this sale it would be : customer service. Indeed, it must be recognized that one of the strengths of Confort Design is the support we offer to our customers. Whether in the customization of the plans or in the different purchase formulas offered, our specialists will be happy to accompany you and advise you at each stage. And that's obviously what motivated the buyers who felt they were in good hands. We therefore invite you to do the same and come and meet one of our representatives.
Promotion in effect
If you haven't had the chance to come see us, know that the 'Buy a house at 2015 price' promo is in effect until April 17!
Hurry, contact us now to make an appointment and ensure that your construction project will begin this summer! By phone at 1-844-474-2663 or using our contact form .